Another successful forum STEMulates student's minds
Local organizations and educators partnered to provide students knowledge for a future in STEM
On October 6, Endress+Hauser hosted its 3rd Community Career+Education Forum in partnership with Central Nine Career Center and Aspire Johnson County. Nearly 700 students, parents and educators from Johnson and Southern Marion Counties were in attendance, geared up and ready to learn about STEM, future career opportunities and participate in the fun activities the forum offered.
Raising STEM awareness
Endress+Hauser and the STEM supporting organizations participate in the forum each year to connect local students, parents, educators and businesses together to raise awareness and provide information about the types of careers available and the importance of STEM (Science, Technology, Engineering and Math) related programs. Click here for a full list of participating exhibitors.
Engaging in STEM fun
"Each year we continue to introduce new exciting and engaging ways to show STEM," said Holly Wegeng, meeting and event planner, Endress+Hauser. "We want students to know there are numerous possibilities and it can in fact be fun!" – This year we added our Stem Studios and expanded our Robotics exhibit, which was one of the most popular exhibits from the previous year. Mark your calendars for next year's 4th Annual Community Career+Education Forum, returning Thursday, September 28, 2017!
Nearly $10,000 awarded to benefit STEM education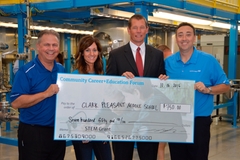 A record-breaking 25 local schools registered and all were awarded with a $250 classroom grant to benefit STEM education. The top three schools who had the most students in attendance received an additional $500 grant. Nearly $10,000 was awarded to the participating schools to further STEM education in the classroom.
An offer of sincere gratitude
"I want to express my sincere appreciation to the 70 volunteers, 50 individuals at the exhibits, 200 parents who brought their 300 students, the event planning committee, the media and the many advocates around Johnson and Southern Marion County who got the word out about the event because they care about the future of our community and preparing and inspiring the next generation workforce," said Brandyn Ferguson, Vice President of HR, Endress+Hauser.