Endress+Hauser gift helps fund library's STEM project
$3K grant helps Greenwood Public Library assemble 96 STEAM kits for youth
Endress+Hauser supports STEM education in the community and classrooms and has been actively involved empowering and engaging students in STEM programs for four years. Each year the company donates STEM grants to surrounding schools, hosts an event called Community Career+Education Forum (CCEF) and helps support STEM related projects around the community, like the STEAM kit initiative our partners at the Greenwood Public Library have implemented.
What are STEAM kits?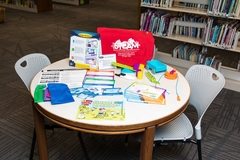 The Greenwood Public Library implemented the idea of youth checking out STEAM kits. Each kit focuses on a different concept and helps build students' confidence and encourages them to discover and use their imagination. Some kits include: building robots, engineering a bridge, detective science, stargazing, human anatomy, the solar system and water cycle. They include interactive tools that enhance what students are learning in school and also provides resources for them during school breaks.
Donation put to good use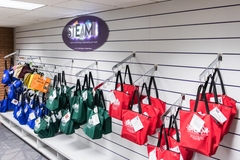 The $3K donation helped add 46 brand new kits and replaced worn parts in older kits.
"Before the donations were made, we had trouble keeping the original kits on the shelf because they were always checked out," said Jane Weisenbach, Director of Development, GPL, pictured below, right. "The library now is able to offer the students more than 100 kits and we wouldn't have been able to without the investments from companies like Endress+Hauser. "
Students embrace STEAM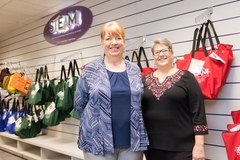 "The goal with these kits is to engage young students in embracing science, math engineering, art and technology," said Linda Messick, Head of Children's Services, GPL. "The kits make learning fun, interactive and playful while providing serious business of understanding difficult concepts. It encourages children to pursue STEM because it makes those concepts less intimidating when learned interactively," added Messick, pictured here, left.