MID/ OIML custody transfer approval for LNG
Coriolis meter Promass 84F features recognized metrological approvals
We are proud to announce that our already proven Promass F Coriolis flow meter is now approved for custody transfer of cryogenic fluids such as LNG.
Benefits
Designed for custody transfer - featuring worldwide recognized metrological approvals

Robust flow measurement at cryogenic temperatures

Space-saving installation - compact devices requiring no inlet/ outlet runs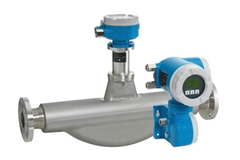 We have obtained custody approvals according to Annex MI-005 (liquids other than water).
Accuracy: Class 1.5 according to OIML R-117 (MI-005) and Class 2.5 according to OIML R81. The approval cover line sizes from 3/8" to 10" (DN8 to DN250)
Please contact your local representative for further information.
09/14/2020 - 09/18/2020

With the help of actual hands-on tasks you will learn how PROFIBUS fieldbus technology works in detail. At the end of the course you will be able to design and commission a PROFIBUS fieldbus network.

09/22/2020 - 09/23/2020

This introductory course will start by providing maintenance and engineering personnel with a basic understanding of wiring, signals, instrumentation technologies, applications and installations.

11/30/2020 - 12/03/2020

Using the latest tools and specification, you will understand the network up to the protocol details, supported by hands on tasks.