Cultivating a future in STEM
6th annual Community Career+Education Forum continues to foster learning experience for students
Publication date: 10/01/2019
©Endress+Hauser

EAA Chapter 1354 allowed students to simulate a flight!

©Endress+Hauser

Students completed the Ferguson Construction Ninja Course at this year's event!

©Endress+Hauser

Students lined up to learn more about eight different STEM career paths at the pathway tables!

©Endress+Hauser

Students were able to see a Cummins' Disel Engine in a semi truck!

©Endress+Hauser

Local robotic teams were able to demonstrate their innovative robot creations!

©Endress+Hauser

CCEF students were able to engage in a hands-on activity at the CAT booth!

©Endress+Hauser

Students stopped by the Process Engineering career pathway table to create a process using tinker toys!
Partnering for STEM
Endress+Hauser and exhibiting industry partners participate in the forum each year to educate and inform the local students, parents and educators about the many types of STEM careers and other related fields in the industry. The forum offers various activities, allowing the guests to engage in many hands-on learning opportunities. Each year, Endress+Hauser and industry partners collaborate on new ideas to implement and ways to improve the forum year after year.
New STEM activities
Some of the new activities this year included Code Busters and Career Pathways. Students were able to engage with subject matter experts in STEM careers and learn of the educational paths that led them to where they are today. At the Code Busters table, students were able to see how coding is done! Some of the returning favorites were, "Are you Smarter than an Engineer?", robotics and 3D printing. Last year, 3D printing was such a hit, volunteers brought back more material and printers!
More than 10K awarded to educators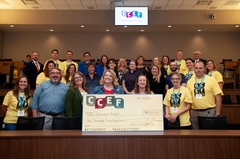 Last year, the CCEF steering committee wanted to make more of an impact with the grants that are awarded to the local schools. For the past two years, local educators have been able to submit STEM-grant proposals for their ideas they have for their classes. This year, nearly $10,100 was awarded, which will enable students to take a deeper dive into STEM initiatives the classroom!
Volunteering for the future
Thank you to all who volunteered the night of the forum to help educate and steer the eager-to- learn students who attended the 6th Community Career+Education Forum. The forum would not be possible without all your help. Save the date for next year, the forum will return November 5, 2020! Look for registration next Spring! For a list of the 2019 participating partners and event activities click here!
Receive the next press releases and news directly in your mailbox. Stay up to date by subscribing to the Endress+Hauser press list.