Endress+Hauser supports STEM education
Donates to local school corporations to help fund STEM education in the community and classroom
Publication date: 07/18/2017
Center Grove Education Foundation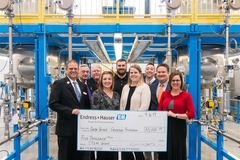 "On behalf of the Center Grove Education Foundation and all of our schools, I thank Endress+Hauser for their generous donation and their dedication to STEM education," said Dr. Richard Arkanoff, Superintendent of Center Grove Schools. "We sincerely appreciate their continued financial support and their commitment to education through programs like their Community Career+Education Forum. These investments benefit not only our students, but the future of our community," added Arkanoff.
Greenwood Education Foundation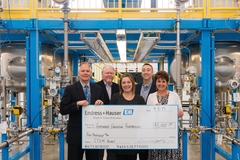 "We are so grateful to Endress+Hauser for this generous donation. We are still a young foundation, and while we are very appreciative of every dollar we receive, contributions of this magnitude are so humbling, and our gratitude just cannot be adequately expressed," said Donna Jones, President of the Greenwood Education Foundation. "This grant will allow us to follow through with our robotics programs and hopes of enhancing our technology programs and advancements in science and engineering,"
Clark-Pleasant Education Foundation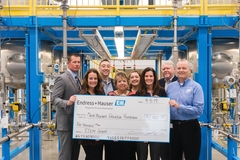 "We are thrilled about the donation from Endress+Hauser for our STEM program," said Kim Lee, Executive Director of Clark-Pleasant Education Foundation. "These funds will ensure that our students have access to the equipment, materials and supplies they need to continue their great work in the program."
Franklin Education Connection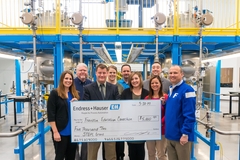 "We are so appreciative of Endress+Hauser and their continued efforts to partner with Franklin Community Schools," said Dr. Clendening, Superintendent of Franklin Community School Corporation. "The amazing STEM opportunities that we are able to provide to our students due to their support are invaluable."
"The donations made to the education foundations are one of the ways we are contributing to increase the future technical talent pool," said Brandyn Ferguson, Vice President of Human Resources, Endress+Hauser. "To increase the technical talent pool years from now we must inform, inspire and empower students and all of their adult influencers on what kinds of great careers await them and the educational and vocational paths that will get them there."
Receive the next press releases and news directly in your mailbox. Stay up to date by subscribing to the Endress+Hauser press list.