Putman Media announces Influential Women in Manufacturing
Endress+Hauser's own Emily Martin named among the 2020 honorees
Publication date: 05/18/2020
Endress+Hauser's own recognized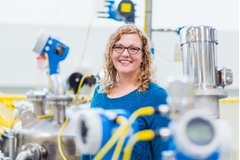 Emily Martin is the Industrial Engineering Manager for Endress+Hauser's Level and Pressure manufacturing facility in Greenwood, Indiana. Emily has been with Endress+Hauser since 2012. Over the last years, Emily has added talented women engineers to her Industrial Engineering team. To help them grow, she has engaged with Kettering University to develop a co-op program, encourages them to lead difficult projects and actively takes steps for them to gain knowledge of the retiring workforce.
Getting involved
Emily is a member of the Women in Manufacturing organization and was on the 2018 host committee for the national convention. She has encouraged membership with others to strengthen the organization overall. She also participates in the Women's Integrated Network, which is a global network within our company whose objective is to 'activate the potential of professional women within our industry and the company'.
Many accomplishments
Emily's contributions are consistent and bring impactful change to the company. In the last year Emily has:
Defined operator maintenance tasks (as a part of TPM) for each primary machine and ensured operators were trained
Applied for and secured a grant from the State of Indiana to provide Advanced Manufacturing training - 76 employees have received more than 2,400 total hours of training
Led effort to bring ergonomics to the forefront of the Health and Safety conversation
Strong leadership
"Emily is an influential woman in manufacturing because of her initiative, drive, intelligence and influence on others," said Jason Baker, Endress+Hauser Level and Pressure General Manager. "As our Industrial Engineering Manager, Emily and her team are primary contributors to our current performance and efforts to continuously improve. She is committed to making our company world-class and leads the charge towards this by ensuring her team is active in leading and supporting the changes needed."
Receive the next press releases and news directly in your mailbox. Stay up to date by subscribing to the Endress+Hauser press list.