Students leave forum excited about manufacturing
Students, parents, educators and employers meet at inaugural Community Career+Education Forum
The question leading into the first annual Community Career+Education forum was clear: Can young students get excited about a career in manufacturing? Based on the attendance and enthusiasm at the forum, the answer to the question is a resounding "yes!" Over 300 excited students, parents, educators and manufacturing professionals visited the new Endress+Hauser Customer Center on June 26th for a fun and interactive look into what careers are possible in manufacturing.
An opportunity to educate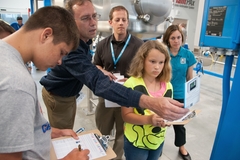 Educators were quick to be part of this opportunity to demonstrate how science, technology, engineering and mathematics (STEM) programs can prepare students for exciting careers in manufacturing. Schools like C9, Purdue University, Rose-Hulman and Ivy Tech talked to students about the STEM programs they offer. Center Grove North Middle School Principal, Nora Hoover, remarked, "Events like these allow students to see career opportunities and makes them more enthusiastic about learning."
Employers bring excitement to manufacturing
While at CCEF, students were able to talk to ten area employers about career opportunities in manufacturing. One employer said, "It's rare to see enthusiasm about engineering and technical careers at this age. It's exciting!" The forum gave students a great experience to see that manufacturing isn't dirty factories and unhealthy work conditions anymore. Employers showed students that the manufacturing industry is an enjoyable work environment and a career field that is incredibly rewarding.
Student engagement
The PTU® (Process Training Unit) Challenge was one popular event among students with nearly 40 participants. They were able to interact with Endress+Hauser measurement instrumentation in a real process plant environment. Students were seen rushing from flowmeters to pressure sensors with grins as they read displays and learned the functions of each device. Students were also intrigued by the many robotics teams at the forum and got to tour Endress+Hauser's state-of-the-art production centers.
"I want to be an engineer someday"
Students could be heard throughout the building telling their parents, "I want to be an engineer someday." This was music to the ears of educators, employers and parents, showing their hard work had paid off. Brandyn Ferguson, VP of HR at Endress+Hauser, came away feeling like the event's message was definitely received. "This forum was created to change their perceptions of manufacturing early by making it fun," Ferguson said. "I think we all have accomplished this beyond expectation."