A new way to buy entry level instrumentation
Endress+Hauser launches the sleek, user friendly E-direct website
We are excited to announce the launch of our new E-direct website! This online store features entry level instrumentation and components as well as a sleek, updated design, fully responsive product listing and free shipping on all products. Volume discounts and credit card payments are also now available on the website.
Improved Customer Experience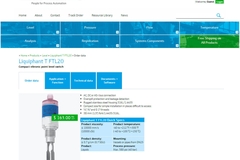 With user friendly interaction as the driving feature behind the new E-direct site, customers are able to easily access detailed product information, technical data, application information and pricing. The Customer Portal allows users to login to quickly browse and purchase all available products and access E-direct order history.
Take E-direct On -The-Go
One the most exciting, new features of the site is its mobile-friendly design. This makes on-the-go shopping easy on laptops, tablets and even smart phones.
The E-direct Resource Library
Customers can do more than just shop for instrumentation. The E-direct Resource Library lets users access to an assortment of eBooks on process automation and manufacturing topics, such as optimizing maintenance processes and increasing plant safety. The library features eBooks unique to E-direct with focus on more specific information such as "Tips for Instrument Placement for More Accurate Readings" and "Automation Trends for Food Manufacturers."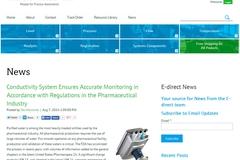 05/06/2019 - 05/09/2019

Gain technical knowledge and make valuable contacts at this year's OTC conference! Learn about Endress+Hauser's capabilities in the Oil & Gas market!

05/07/2019 - 05/09/2019

Get hands-on experience with loop checkout and troubleshooting in this two-day training course!

05/12/2019 - 05/16/2019

Visit Endress+Hauser and SpectraSenors, an Endress+Hauser Company, at ISHM 2019

06/03/2019 - 06/05/2019

Join us at ILTA in Houston to learn about our Load Metering and Inventory Monitoring Solutions