Are you prepared for an FSMA audit?
Endress+Hauser is here to support you
The Food Safety Modernization Act (FSMA) has greatly increased the regulatory burden placed on U.S. food and beverage companies in an effort to shift food safety from reactive to preventative. Do you have a partner that can help you meet the demands of expanded testing, documentation and auditing procedures in order to comply with these new regulations?
Compliance with FDA verification procedures
Is your organization struggling to comply with the verification procedures as outlined in the Food Safety Plan? For many, execution of the verification procedures section as mentioned in the Food Safety Modernization Act is complex and time consuming. With the new FDA rule, this has forced your facility to invest in training, education, enhanced systems and processes in order to implement new safety regulations while continuing to provide the support necessary for your operations.
Endress+Hauser can help ensure time savings and efficiencies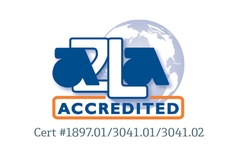 Calibration management consulting services – Understanding your unique needs and fitting into your business processes

Installed base assessment – Plant wide assessment of all your instrumentation

Calibration – Fully accredited on-site calibration

Calibration management software - CompuCal maintains your certificates and provides evidence that your devices are operating within its values as documented in your Food Safety Plan.

Creation of SOP's – Supporting your Food Safety Plan
ISO 17025 accredited calibration
As an ISO 17025 accredited calibration provider, we can easily help you stay compliant and ensure you are prepared for an audit. Endress+Hauser has the tools and expertise needed to support your complete calibration program as outlined in 21CFR117.165.
Need further details about FSMA?