Endress+Hauser supports local schools' STEM initiatives
Company donates $30K to local school corporations to help further STEM education
Endress+Hauser donates a total of $30,000 to Center Grove, Clark-Pleasant, Franklin and Greenwood schools' education foundations. The individual donation of $7,500 awarded to each foundation will be invested in existing and future STEM (Science, Technology, Engineering and Math) initiatives and programs.
"Our company actively invests in the next generation's education," said Brandyn Ferguson, Vice President of Human Resources, Endress+Hauser. "With these classroom grants we are helping to fund those cool and creative ideas that teachers everywhere have, but too often lack the resources to bring to life. We are honored to play a small role in generating intellectual curiosity within our community's children."
Center Grove Education Foundation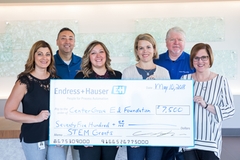 "We are fortunate to be a part of a community that recognizes the importance of education for our children, families, and the local economy," said Jennifer Rakow, Executive Director of the Center Grove Education Foundation. "Thanks to Endress+Hauser, we are able to provide additional curriculum resources and new technology for our students. We deeply appreciate your partnership with us as we support the desire of Center Grove Schools to be exceptional!"
Clark-Pleasant Education Foundation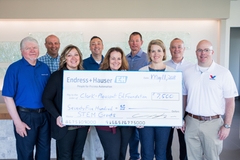 "The support from our local business partners has been instrumental in the development of new STEM opportunities for our students," said Dr. Patrick Spray, Superintendent of Clark-Pleasant Community School Corporation. "Endress+Hauser has been the leader in our area to work with local schools and encourage other businesses to get involved. Their forward thinking to build a pipeline for talent has helped our school system create fun and authentic learning opportunities for our kids."
Franklin Education Connection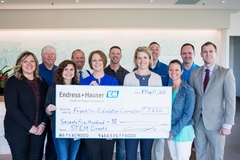 "Franklin Education Connection is excited and very thankful to be a recipient of another grant from Endress+Hauser," said Dustin Huddleston, Vice President of Franklin Education Connection and Chair of the Education Foundation Committee. "Over the years, Endress+Hauser has been very generous to FEC and we are thankful for their continuous and increasing support of our efforts to support education of children."
Greenwood Education Foundation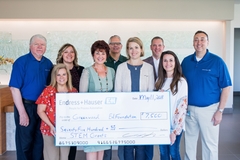 "We are so incredibly grateful to Endress and Hauser for awarding us this grant," said Donna Jones, President of the Greenwood Education Foundation. "Included in the vision of the Greenwood Education Foundation is to grow our STEM-related programs in our schools and since our inception in 2014, we have worked very hard to make that a reality, but we have just begun our journey. This grant will be a huge step forward for us in being able to provide our students every advantage in this area..."