USA Career Opportunities
Join the People for Process Automation
We believe that engaged, committed employees make the difference and see them as a key factor in ensuring our future as a successful family-owned business. We are looking for candidates to help us continue the trend of double-digit growth and market share gains, and support our customers in the United States. Start with us - choose the '"People for Process Automation"!
Endress+Hauser in the U.S.
Endress+Hauser began U.S. operations in 1970, and is now one of the largest process instrument manufacturers in the country. Over 80% of the instruments sold in the U.S. are made in the U.S., and we have sales, service and training locations nationwide to support customers wherever their instruments are installed. Learn more about our U.S. operations here!
Job openings in the U.S.
See what positions we currently have available at our U.S. Sales Center, Regional Centers, Production Centers and Manufacturer's Representatives.
Employee Testimonials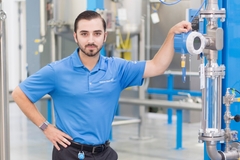 "E+H is a team environment. It's a place where you can be recognized for what you do and enjoy benefits as the company grows and becomes profitable."
"E+H does an excellent job of making every employee feel like they are part of a team as well as part of a family. Employees are given opportunities to network and interface not only with fellow employees in the US but across the globe."
Best-in-class employee benefits
Endress+Hauser provides a comprehensive best-in-class benefits package intended to protect the health and livelihood of employees and their families through plans that meet or exceed the industry benchmark. Benefits include:
Competitive compensation

Bonus opportunities

Medical (with generous employer paid HSA funds)

Dental

Vision

Life insurance

Generous paid-time-off

401(k) savings with company match

Tuition reimbursement
Employee amenities available at our Greenwood, IN campus
Full Service Cafe and Starbucks

Fitness Center

Health Clinic

Nurse Practitioner

Wellness Coordinator
Employment Policy
Endress+Hauser is an equal opportunity employer. It is our policy to prohibit discrimination and harassment of any type and to afford equal employment opportunities to employees and applicants, without regard to race, color, religion, sex, national origin, age, disability, genetic information, or veteran status. Endress+Hauser will conform to the spirit as well as the letter of all applicable laws and regulations.
More job opportunities
Please use our job portal for your application. Here you may set up your profile and will then be informed automatically about interesting job offers that fit your profile.