Valuable forum demonstrates rewarding future
Local organizations and educators partner as STEM advocates, instilling knowledge in next generation
On September 28th, Endress+Hauser hosted the 4th Annual Community Career+Education Forum in partnership with Central Nine Career Center and Aspire Johnson County. Approximately, 1,000 students, parents, educators, colleges/universities, manufacturing professionals and volunteers from all over Johnson, Marion, Shelby and Bartholomew counties gathered at the STEM forum to learn about career opportunities in advanced manufacturing and the skilled trades.


Forum fun
The forum connects students, parents, teachers, administrators and educators together to raise awareness and provide information about technical careers and opportunities and the importance of STEM related programs. There are many activities throughout the event, such as: robotics demonstrations, factory tours, contests, giveaways, prize challenges, information booths, social media challenges, meet college representatives, classroom grants awarded to participating schools and more!
Preparing the next generation
Endress+Hauser and the supporting organizations remain engaged in the forum each year because of the need to develop and guide the next generation to career opportunities in STEM fields. Brandyn Ferguson, VP Human Resources, Endress+Hauser, says, "To increase the technical talent pool years from now we must inform, inspire and empower students and all of their adult influencers on what kinds of great careers await them, and the educational and vocational paths that will get them there."
Local educators receive total of $10,000 in STEM grants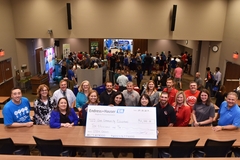 A group of local educators gathered for a photo during CCEF festivities. This year educators who attended the event were able to fill out their own educator passport. More than 100 teachers, guidance counselors and administrators participated in activities. The passport encouraged educators to network with local industry partners and colleges/universities to further STEM education in their schools. Upon passport completion, educators received a classroom grant to fund STEM programs.
Dedication leads to continual forum success
The 2017 forum had record-breaking numbers, with more than 30 exhibitors and nearly 100 volunteers! Thanks to everyone who helped make this year a success! For the list of participating exhibitors, forum activities and testimonials click here. If you were unable to attend this year's forum, make sure to save the date for next year! CCEF returns September 20, 2018!