Cybersecurity certification for Endress+Hauser
Facilitate your cybersecurity compliance with a trusted partner.
Endress+Hauser measuring instruments and components ensure the reliable operation of process plants in countless facilities worldwide. Cybersecurity in industrial plants and the Industrial Internet of Things is becoming increasingly important. To provide proof of the quality of our products, we have tested our systems against some of the most well-known security standards in the IT and OT world and obtained the corresponding certification. Find out more in our press release and brochure.
Certified according to IEC 62443-4-1
In order to provide the best possible protection for customers' production facilities, Endress+Hauser lays the foundations for secure operation as early as the planning and development stage for its products and services. TÜV Rheinland has confirmed that this product development process, as well as the lifecycle management of the products, meet the highest international standards with certification in accordance with IEC 62443-4-1.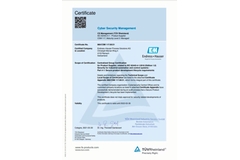 Certified according to ISO 27001
Endress+Hauser Digital Solutions is the competence center for IIoT and digitalization in the Endress+Hauser Group. The entity was granted ISO 27001 certification for information security. Fulfilling this international standard set a new landmark for the organization. Firstly, the security of the customer's data is ensured. Secondly, a third-party certification body confirmed that our system ensures the correctness, adequacy and continual improvement of our security measures (SQS).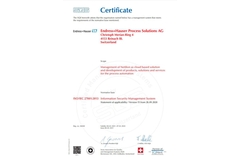 Netilion assessed according to ISO 27017
A third-party certification body confirmed that the IIoT ecosystem Netilion fulfills the requirements of ISO 27017 (SQS). The international standard contains requirements for cloud platforms. Cloud-based services offer multiple useful functionalities. At the same time, they can increase the attack surface of companies – and the fear of using them. Compliance with ISO 27017 ensures that customers can trust the Netilion ecosystem to provide a secure harbor for their data.