Ethernet-APL
Connect the field and unleash the potential with Ethernet-APL
Process plants strive for efficient engineering, fast commissioning and a reliable production quality. Digital transformation and Industry 4.0 unfold new potential to reinforce this. Established field technologies are limited in supporting digitalization due to low bandwidth and speed or laborious protocol conversion. But, the advanced physical layer for Ethernet, Ethernet-APL, meets the new requirements. With Ethernet-APL, digitalization in process plants is fully enabled with all advantages.
Benefits
Suitable for process industries: power and communication on the same 2-wire cable, cable lengths of up to 1000 m, installation in explosion hazardous areas incl. intrinsic safety

Data transfer with high-speed: top performance with 10 Mbps full-duplex for real-time data access and fast configuration

Homogenous network: seamless data access with less hardware and without protocol conversion by using well-established Industrial Ethernet protocols like PROFINET or EtherNet/IP

Increased plant availability and production output: use data of smart instruments (e.g. self-diagnostics) to reduce plant shutdowns and benefit from more process variables of higher measurement accuracy

State-of-the-art technology: simple connection via terminals, simple installation and commissioning, simple device integration, robust communication
What is Ethernet-APL?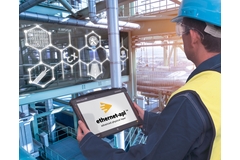 The advanced physical layer Ethernet-APL brings standardized Ethernet technology and its advantages to the field of process plants. The leading standardization organizations are working together with major industry partners of process industries to specify one single physical layer that meets the requirements of process automation. Ethernet-APL is designed to support various topologies including redundancy concepts to ensure flexibility according to the needs of a process plant.
What are the characteristics of Ethernet-APL?
10 Mbps communication over a single twisted pair cable for long reach as defined in IEEE 802.3cg-2019, short 10BASE-T1L

Explosion protection with intrinsic safety for hazardous zones as defined in IEC TS 60079-47 (2-WISE = 2-Wire Intrinsically Safe Ethernet)

APL Port Profiles for definition of multiple power levels between power source and power load and required cable characteristics (preferred: fieldbus cable type A) and connection technology (screw terminals, spring terminals, M12 connectors)
When will Ethernet-APL be available?
The specifications will be finalized in 2021, Ethernet-APL infrastructure and Ethernet-APL field devices are expected to be available afterwards.
Endress+Hauser will continue its Industrial Ethernet journey with an Ethernet-APL portfolio for all relevant measuring principles: flow, level, pressure, temperature and analysis.
Here you can download an overview of the information on this page.