iTEMP TMT80
Temperature head transmitter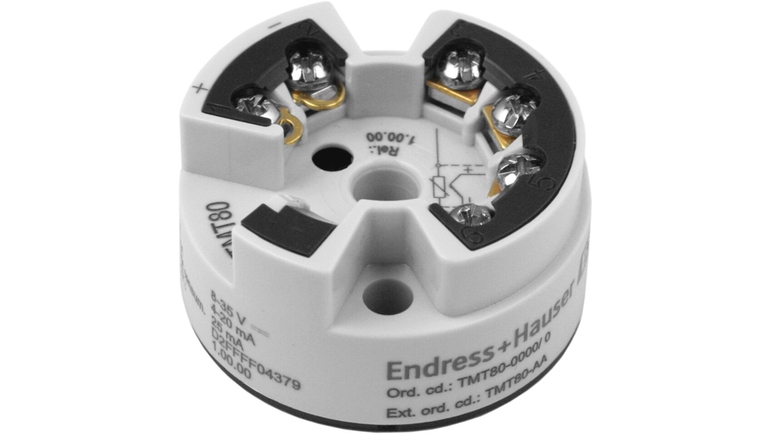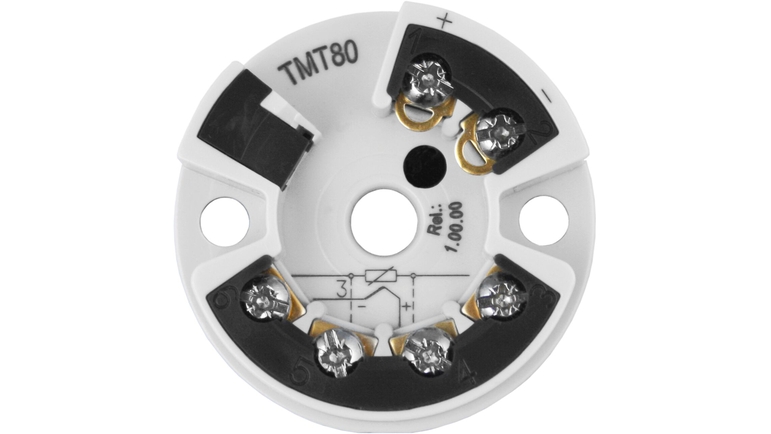 Transformation of the sensor signals into stable and standardized output signal for all industries
This transmitter is configurable and supports both selected resistance sensor types and thermocouples. In order to obtain the highest measurement precision, linearization characteristics for every type of sensor are stored in the transmitter.
The standardized output signal used for process measurement is a 4 to 20 mA signal. This offers fast, easy and cost-saving temperature measuring and reliable measurement values for a wide range of non-ex industry applications.
Benefits

2-wire technology, 4 to 20 mA analog output

Fault signal on sensor break or short circuit,
presettable to NAMUR NE 43

Meets the EMC requirements as per NAMUR NE 21

Galvanic isolation 500 V (input/output)

Application specific measuring range setting
Field of application

PC programmable (PCP) temperature head transmitter for converting various input signals into a scalable 4 to 20 mA analog output signal

Suitable for resistance thermometer (RTD) and thermocouple (TC)

Device configuration using PC with configuration kit...
Documents / Manuals / Software
Accessories / Spare parts
The unit is not repairable

Spare part set for TMT181/187/188/182

(4 screws, 6 springs, 10 spring rings)

DIN rail clip

according to IEC 60715 for temperature head transmitters.

Configuration kit TXU10-

for PC-programmable devices. set-up programme+interface cable for PC with USB-Port.

Readwin 2000 Operation + Read. software

Field housing TAF10

Application: E+H Head transmitter. Housing: Alu IP66, 100x100x60mm.
03/03/2019 - 03/06/2019

Learn about new technology, tends, and real-life applications at IFPAC 2019!

04/08/2019 - 04/11/2019

Join us in Nashville at the Craft Brewers Conference. Come learn how Endress+Hauser can be a partner in delivering consistent quality and reducing costs with the right instrumentation.

06/11/2019 - 06/12/2019

This introductory course will start by providing maintenance and engineering personnel with a basic understanding of wiring, signals, instrumentation technologies, applications and installations.

09/09/2019 - 09/13/2019

With the help of actual hands-on tasks you will learn how PROFIBUS fieldbus technology works in detail. At the end of the course you will be able to design and commission a PROFIBUS fieldbus network.