5th CCEF continues to cultivate a learning atmosphere
Forum showcases STEM-related career paths to maturing minds
On September 20, 2018, Endress+Hauser hosted the 5th Community Career+Education Forum in partnership with Central Nine Career Center and Aspire Johnson County. Each year the forum is tailored to middle school students, to introduce them to local career opportunities in advanced manufacturing, skilled trades and other technical fields. At this year's forum, there were more than 1,000 attendees; including, students, parents, educators, volunteers and community partners.
Students immerse themselves in STEM
From robotics and 3-D printers, to PTU scavenger hunts and games, students found themselves with plenty of opportunities to learn and engage in the forum's STEM activities. This year many activities were enhanced. The "Are you Smarter than an Engineer?" game show went digital!
"The kids are so excited to show how smart they are. I like to think they leave this activity knowing they have a lot to contribute to the world," said Michael Robinson, volunteer. Click here for more event details!
Industry partners continue to support CCEF
Caterpillar has been participating in CCEF since its inception in 2014. The company sees value and benefits in engaging in the event. "I have always considered this a great opportunity to engage with our community as well as an investment in our youth. Participation in this program has provided us with the opportunity to champion manufacturing as a career choice as well as execute opportunities outside of this event," said Don Kinsey, Facility Manager, Caterpillar Remanufacturing.
Educators' creative ideas become tangible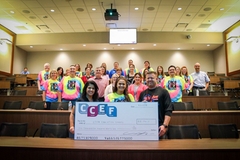 Each year many educators come up with brilliant STEM-related ideas they would like to put in place but because of lack of resources their ideas become overlooked or omitted. This year the CCEF committee put together a STEM grant program in which middle school STEM teachers could submit a proposal for a STEM project that they wanted to do in their classroom. The committee received nine proposals and six were fully funded, with more than $10K awarded.
Involved and invested in CCEF
"This being the 5th annual event, all indications show it is the best one yet," said Brandyn Ferguson, VP of HR, Endress+Hauser. "The thank-you cards, emails and people stopping us in the community to show appreciation – it's been amazing and humbling to see and feel the gratitude from parents, students and educators."
Multiple thank you cards from students have been received and many have stated interest in next year's event - CCEF 2019 will be on September 19, 2019! Be sure to save the date!