Calibration management from Endress+Hauser & CompuCal
U.S. customers will now have a comprehensive, compliant and secure calibration management solution
Endress+Hauser and CompuCal Calibration Solutions have teamed up to provide U.S. customers with a world-class comprehensive calibration management solution with access via a scalable architecture. Customers now have the option to implement CompuCal as a private or public cloud which can be hosted on their server or as a secure cloud service.
Calibration management solution via scalable architecture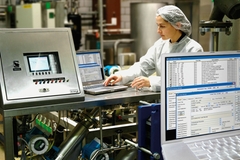 The calibration management solution portfolio is designed upon a scalable architecture and can start as simple as a cloud-based version or scale up to an enterprise deployment. The enterprise version interfaces with mobile platforms and integrates seamlessly into customers' IT infrastructure such as SAP. Both the cloud based and enterprise deployment can integrate calibration data with the Endress+Hauser Web Asset Management architecture (W@M).
Cost-effective and easy to implement
The CompuCal in-the-cloud solution comes at a cost-effective price with minimal effort from the customer. Set-up is quick and the program is simple to use, providing all requirements for technicians and managers. The program provides a full audit log, history, and KPI's – significantly reducing customer's running costs. The system is fully validated with protocols and reports with no need for extra validation resources. Users can access their safe and secure data anywhere in the world.

Ensuring compliance in highly regulated industries
Calibration management solutions from Endress+Hauser and CompuCal ensure quality compliance with all FDA and ISO requirements making auditing easy with simple and quick access to history and reporting.