Real-time quality measurements in biogas and biomethane
TDLAS solutions with accurate and continuous measurement
Biogas is on its way to become a staple in the movement to reduce our carbon footprint on the planet. Biogas is a renewable source of energy that comes from a variety of sources. Once biogas is formed within the anaerobic digester, it is processed to remove unwanted contaminants such as H2O, CO2, and H2S. What is the typical composition of Biogas pre and post processing? Are you meeting local and federal requirements with your measurements of biomethane?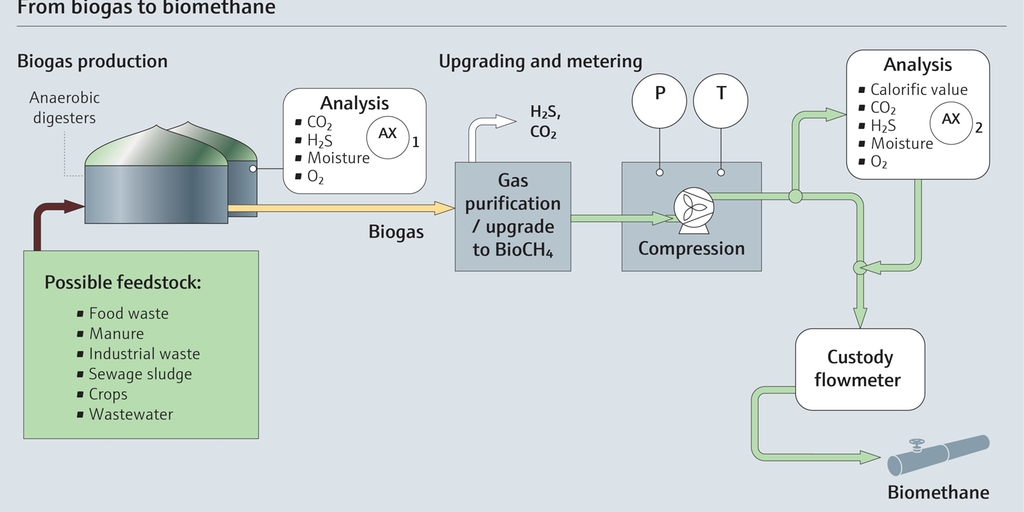 Benefits at a glance
• High quality, repeatable and fast measurements
• Low maintenance
• Reliable in harsh environments
• Accurate and real-time measurements
• NIST traceable calibrations
Post processing challenges
After biogas is processed the concentration of methane is 97–99%. Once the gas is processed to biomethane it is injected into an interconnect pipeline where it is subjected to a custody transfer measurement. During this measurement the biomethane must meet industry standards and regulations. These standards specify the minimum levels of contaminants (H2O, CO2, H2S and O2) allowed in biogas to be injected. Higher levels of contaminants can cause corrosion and affect combustion in generators.
Real-time, continuous and accurate measurement solution
Tunable Diode Laser Absorption Spectroscopy (TDLAS) technology detects and measures the concentration of molecular compounds (H2O, H2S, CO2) in gas streams. The rugged nature of the laser-based analyzers has allowed them to be used in natural gas pipelines with very little maintenance, no interference, and with no detrimental effects from glycol, methanol, amine, H2S and moisture.