Portable turbidity meter
Turbimax CUE26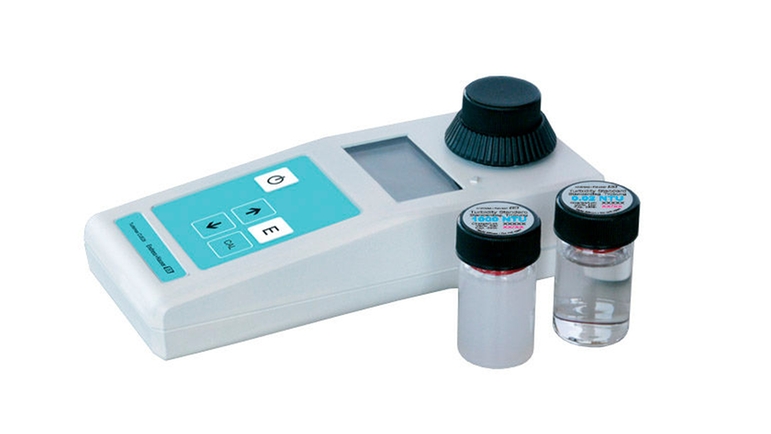 Handheld meter for on-site quality control in drinking and process water applications
Turbimax CUE26 portable turbidity meter offers grab sample measurement compliant to US EPA 180.1. It allows verification of your online turbidity measurements and control of your processes directly on-site. Operation is simple: fill the cuvette, insert it into the measuring chamber and get an instant reading. In addition, Turbimax CUE26 provides guided calibration according to predefined standards, helping to streamline maintenance.
Quick selection
Choose from our suggested options
Individual configuration
Continue your selection from all possible options
Benefits

Easy on-site verification of your processes

Easy on-site verification of your online measurement loops

Guided calibration according to predefined standards

Waterproof for...
Field of application

Turbimax CUE26 is a portable turbidity meter for:

Drinking and process water:
- On-site verification of processes
- On-site verification of online measurement loops
- On-site water quality...
Documents / Manuals / Software
Accessories / Spare parts
Calibration kit CUE25/CUE26

Ready-for-use solutions 0,02 NTU 10 NTU and 1000 NTU Accessory turbidity measurement

Set sample cuvettes CUE25/CUE26

incl. caps, 3 pcs. Accessory turbidity measurement
09/14/2020 - 09/18/2020

With the help of actual hands-on tasks you will learn how PROFIBUS fieldbus technology works in detail. At the end of the course you will be able to design and commission a PROFIBUS fieldbus network.

09/16/2020

Join Endress+Hauser at ISPE East at Gillette Stadium to find out about the new products and innovations in the pharmaceutical market.

09/22/2020 - 09/23/2020

This introductory course will start by providing maintenance and engineering personnel with a basic understanding of wiring, signals, instrumentation technologies, applications and installations.

11/01/2020 - 11/04/2020

Visit Endress+Hauser at the 2020 ISPE Annual Meeting & Expo November 1-4 in Pennsylvania!