Omnigrad S TMT142R
RTD thermometer, fieldtransmitter display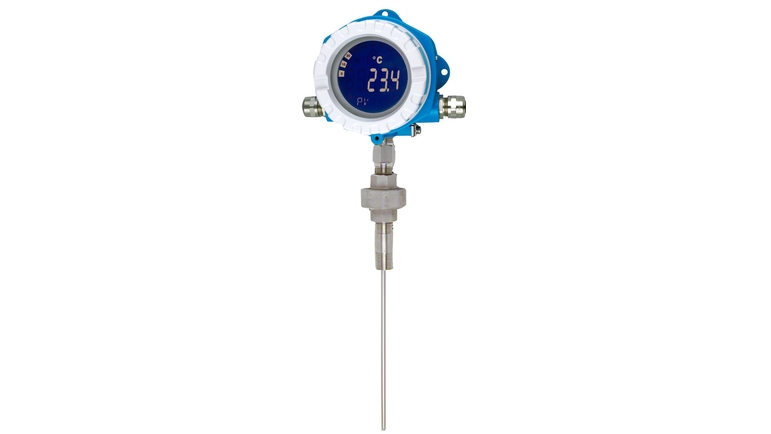 Safe monitoring of process temperatures in challenging applications e. g. in the Oil & Gas industry
The robust thermometer is designed for use in demanding and safety relevant applications e.g. in the Chemical, Oil & Gas and Energy industry. The thermometer fulfills the corresponding safety requirements due to various certificates and tests. The use of a transmitter leads to higher accuracy and reliability in comparison to directly wired sensors.
Quick selection
Choose from our suggested options
Individual configuration
Continue your selection from all possible options
Benefits

HART® protocol for operating the device on site using handheld terminal (DXR375) or remotely via the PC

Illuminated display, rotatable

Single Pt100 with 3 or 4 wires connection

Undervoltage detection responds immediately, output of falsified measured...
Field of application

The temperature assembly TMT142R from the Omnigrad S family is a compact resistance thermometer specifically designed to fulfill the requirements of different process industries such as the chemical, petrochemical and energy but even suitable to other...
Documents / Manuals / Software
Accessories / Spare parts
Adapter NPT1/2/M20x1.5 cable entry

Adapter M20x1.5 exter./M24x1.5 intern.VA

Cable gland NPT1/2, D4.5-8.5 IP68

Mounting bracket SS316L, tube 1,5-3"

Display fitt.kit field housing (3 piece)

Pack = 3 piece

Nr

5

Order code

TMT142X-HH

Housing cover blind, Alu Ex d FM XP without O-ring CSA XP only as cover of terminal part

Nr

5

Order code

TMT142X-HI

Housing cover blind, Alu + O-ring

Nr

5

Order code

TMT142X-HK

Housing cover cpl. for display, Alu Ex d + O-ring

Nr

5

Order code

TMT142X-HL

Housing cover cpl. for display, Alu + O-ring

Cover latch spares kit field housing

Screw, washer, spring washer

Nr

2+3

Order code

TMT142X-DA

Display + fitting kit + twist protection

Nr

2+3

Order code

TMT142X-DC

Display fitting kit + twist protection

Blanks (blind) M20x1.5 EEx-d/XP

Blanks (blind) NPT1/2, 1.0718

Blanks (blind) G1/2" EEx-d/XP

Blanks (blind) 1/2"NPT V4A

Commubox FXA195

Modem to connect HART field devices to a computer via USB. Commissioning of field devices with software tool. :: To connect to a intrinsically safe signal circuit. :: SIL2, IEC61508.

RTD Insert TET300

Replaceable Insert (MgO). Connection to EEx d head with NPT1/2. Diameter: D=6mm.
06/08/2020 - 06/10/2020

Join us at ILTA in Houston to learn about our Load Metering and Inventory Monitoring Solutions

06/22/2020 - 06/26/2020

With the help of actual hands-on tasks you will learn how PROFIBUS fieldbus technology works in detail. At the end of the course you will be able to design and commission a PROFIBUS fieldbus network.

09/22/2020 - 09/23/2020

This introductory course will start by providing maintenance and engineering personnel with a basic understanding of wiring, signals, instrumentation technologies, applications and installations.