TSC310
Thermocouple sensor, cable probe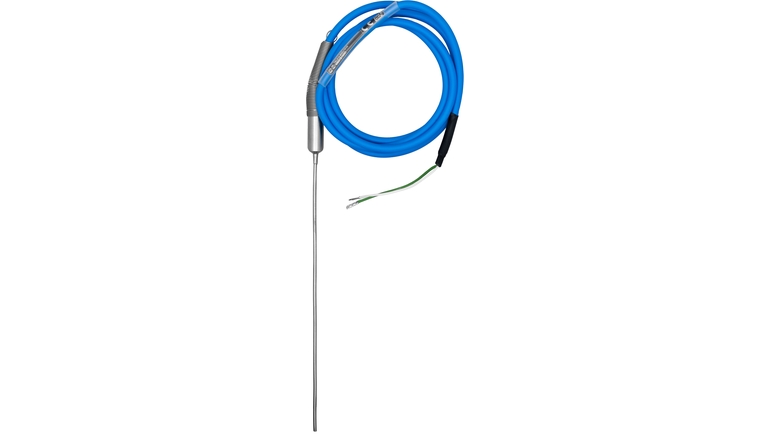 Cost efficient thermocouple sensor designed for use in many process and laboratory applications
The thermocouple (TC) cable probe is easy to install and provide a high operational safety due to reliable and accurate temperature measurement in common processes. The probe is specially suited to temperature measurement in machinery, laboratory equipment and plants in gaseous or liquid medium like air, water, oil, etc. Without additional thermowell the probe sheath is directly in contact with the process medium. This enables to detect rapid temperature changes fast and accurate.

Quick selection
Choose from our suggested options
Individual configuration
Continue your selection from all possible options
Benefits

High flexibility through user-specific insertion lengths and variable process connections

Fast response time

Different types of thermocouples according to DIN EN 60584 and ASTM E230/ANSI MC96.1: type J (Fe-CuNi), type K (NiCr-Ni)


Types of protection for...
Field of application

The resistance thermometer is specially suited to temperature measurement in machinery, power stations and plants in gaseous or liquid media like air, steam, water and oil.
Documents / Manuals / Software
Accessories / Spare parts
The unit is not repairable

Gasket spares TA50-QB/FB D=3mm, AISI 316

set includes 10 gaskets

Gasket spares TA50-GB/NB/HB/PB/BB/CB/DB

D=6.1mm, AISI316, set includes 10 gaskets

Compression Fitting TA50

Screw in.
06/22/2020 - 06/26/2020

With the help of actual hands-on tasks you will learn how PROFIBUS fieldbus technology works in detail. At the end of the course you will be able to design and commission a PROFIBUS fieldbus network.

09/22/2020 - 09/23/2020

This introductory course will start by providing maintenance and engineering personnel with a basic understanding of wiring, signals, instrumentation technologies, applications and installations.