Free Chlorine Analysis System
EPA compliant free chlorine measurement using amperometric sensor technology eliminates reagents
Free Chlorine Analysis Systems (FCAS) provide turn-key panel-mounted solutions for free chlorine measurement. These systems incorporate a Memosens amperometric free chlorine probe and a Memosens pH probe for accurate and reliable measurement. Each panel is designed with a Liquiline transmitter, either a CM442 for up to two sensor input channels and two analog outputs or a CM444 transmitter with two analog outputs and the ability for multiple sensor input channels and additional I/O.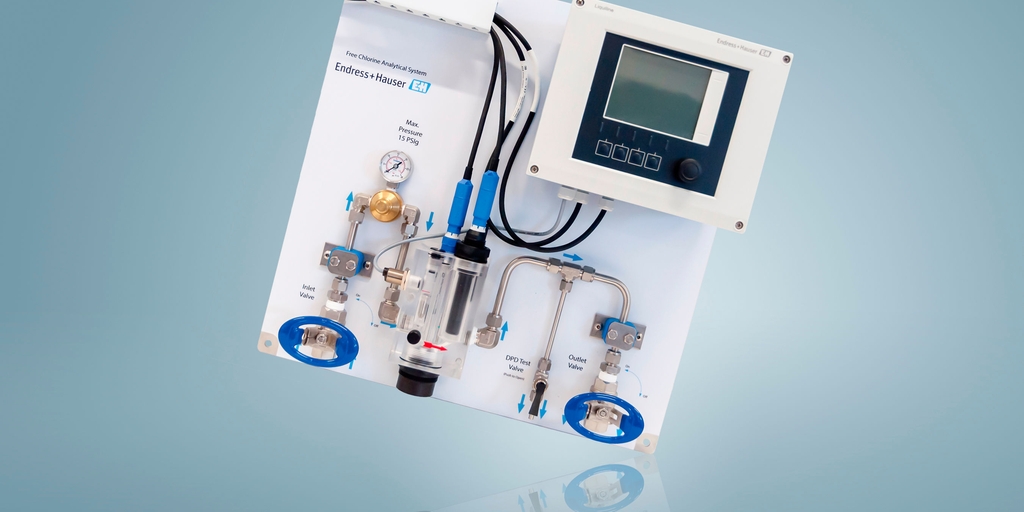 System design
A FCAS panel is comprised of an amperometric free chlorine sensor and a pH probe mounted in a integrated flow assembly (Flowfit CCA250), sensor cables and a Liquiline transmitter (either the CM442 or CM444). An integral flow switch mounted in the flow assembly monitors for proper system flow and provides an alarm through the transmitter if flow is interrupted.
Enclosure rating
The transmitter has a NEMA 4X (IP66) rating and all other components are water-proof, for installation indoors, outdoors or in an enclosure.
Integrated flow assembly and pressure regulation
Designed to properly hold chlorine and pH probes

Built in needle valve for flow control between 30 and
120 L/hour

Inductive low flow alarm switch indicates when flow is
too low for proper measurement

Pressure regulator to maintain constant measurement
conditions
Liquiline and Memosens® technology
Memosens sensors eliminate problems associated with
analog sensor technology

Liquiline transmitter in two or four channel version with
a range of I/O simplifies control system integration

Optional Memobase Plus hardware and software enables
intelligent sensor management
Benefits
EPA compliant according to Method 334.0

Reagent-less system using amperometric free chlorine measurement

Easy DPD testing with built-in test valve and pH compensated measurement ensures accurate DPD verification

Inlet and outlet valves allow isolation for routine sensor maintenance
06/22/2020 - 06/26/2020

With the help of actual hands-on tasks you will learn how PROFIBUS fieldbus technology works in detail. At the end of the course you will be able to design and commission a PROFIBUS fieldbus network.

09/22/2020 - 09/23/2020

This introductory course will start by providing maintenance and engineering personnel with a basic understanding of wiring, signals, instrumentation technologies, applications and installations.