Immersion assembly
Flexdip CYA112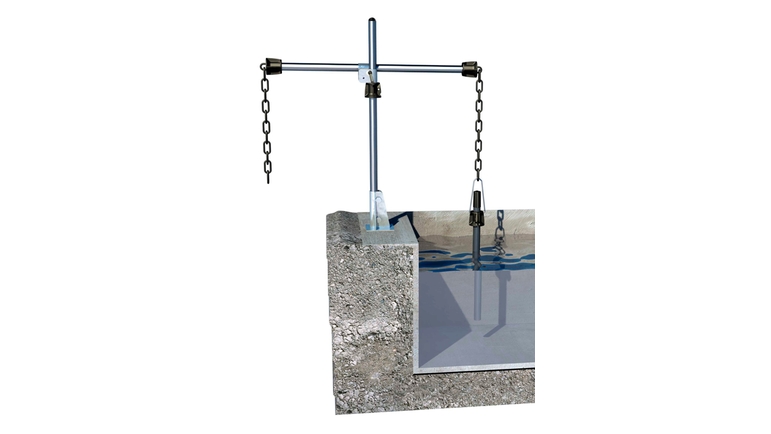 Modular assembly for water, wastewater and utilities
The Flexdip CYA112 is a modular assembly for sensor immersion in open basins, channels, or tanks. It allows nearly any kind of sensor mounting – chain, fixed, or free-swinging – and features a quick fastener for rapid and safe installation of Memosens or fixed-cable sensors. The assembly provides you with outstanding flexibility and enables you to optimally configure your measurement at low costs.
Benefits

The modular system allows an optimum configuration for every measuring place

Fast installation and exchange of Memosens sensors with contactless plug-in head

Twist-free installation of fixed-cable sensors

Easy to install and to maintain

Robust design:...
Field of application

Flexdip CYA112 is a modular assembly for all measurements in open basins, channels and tanks in:

Wastewater treatment plants

Water works

Utilities of all industries

It forms a perfect team with the Flexdip CYH112 holder for simple sensor isolation.

...
Documents / Manuals / Software
Accessories / Spare parts
Kit CYA112: bracket for chain

Kit CYA112: O-rings for quick fastener

Kit CYA112: O-rings for immersion tube

Immersion pipe tray

to be used with long immersion pipes

Triangle carabiner (chain clip), CYA112,

protection for chain holder

Velco cable connector, 4 pieces

4 pieces, for sensor cable

sensor adaptor NPT3/4 to G1

sensor adaptor G3/4 to G1

sensor adaptor PG13,5 to G1

for pH-electrodes 12mm, 120mm length

Quick fastener complete

fast sensor assembly

Tool to de-assemble quick fastener

Tube D=40mm, L=150mm, V4A M36/G1 inch

.

Tube D=40mm, W=45o, V4A, M36/G1 inch

Tube D=40mm, W=90o, V4A, M36/ G1inch

Tube D=40mm, L=600mm, V4A M36/M36

Tube D=40mm, L=1200mm, V4A M36/M36

Sealing cap stainless steel CYA112

spray cleaning CYA112 600mm

Spray cleaning for CYA112 (600mm) for straight assemblies, length = 600mm Angulated pipe connection D16

spray cleaning CYA112 1200mm

Allen key, CYH112, CYA112

further spares via order code

FLEXDIP CYA112

Immersion assembly Application: flow channel, tanks, bassin.
03/03/2019 - 03/06/2019

Learn about new technology, tends, and real-life applications at IFPAC 2019!

03/18/2019 - 03/22/2019

Join us for the American Petroleum Institute (API) 2019 spring committee meeting to discuss petroleum measurement standards.

04/08/2019 - 04/11/2019

Join us in Nashville at the Craft Brewers Conference. Come learn how Endress+Hauser can be a partner in delivering consistent quality and reducing costs with the right instrumentation.

05/06/2019 - 05/09/2019

Gain technical knowledge and make valuable contacts at this year's OTC conference! Learn about Endress+Hauser's capabilities in the Oil & Gas market!