Gateway for
measurement values
Fieldgate FXA42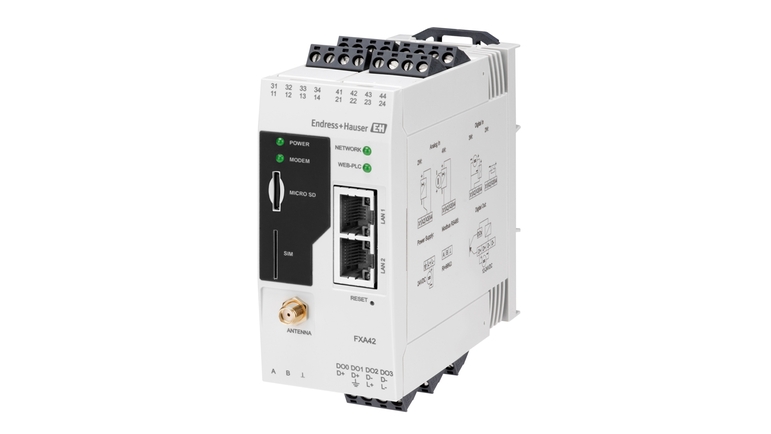 Communication of measurement values of connected 4 to 20mA analog as well as digital field devices
Fieldgate FXA42 is developed for monitoring of field devices with digital or 4 to 20mA interface regardless of location. It supports communication interfaces like Ethernet, WLAN or cellular communication. With its integrated web server technology it can easily be configured online and measured values can be visualized online. FXA42 also offers data logging and alarm management functions.
Quick selection
Choose from our suggested options
Individual configuration
Continue your selection from all possible options
Benefits

Level, flow and pressure visualization at the desk regardless of location

Simple configuration of Fieldgate and easy visualization of measured values via its integrated web server

Connects to SupplyCare Enterprise and SupplyCare Hosting

Advanced...
Field of application

For remote monitoring of connected 4 to 20mA analog as well as digital field devices via Ethernet, WLAN or cellular communication.

Measured values can be viewed with a standard internet browser

Configuration of measuring and transmission cycles

...
Documents / Manuals / Software
Accessories / Spare parts
Fixed Antenna: LTE, GSM, UMTS, WLAN

Fixed antenna for mounting on vertical surfaces. Cable length: 3m. Application: LTE 800MHz, LTE 2.6GHz, GSM 900/1800, UMTS, WLAN 2.4 GHz (WiMAX, WiFi). Usage: FXA30, FXA42. Indoor and outdoor use. Mounting via bracket. Omnidirectional characteristic. Radiator protected by a plastic tube. HF-cable connected directly to antenna. 10cm clearance between antenna by 15dB isolation.

HG1 Plus HART to Modbus Gateway

Advanced HART communications module. HART to Modbus protocol conversion. For use with Fieldgate FXA42 to transfer data to SupplyCare Hosting and Enterprise. Also works with a direct connection to SupplyCare Enterprise. Usage: FXA42. Application: HART Multidrop loop communication. Modbus TCP server. Modbus RS485 slave.

Power Supply UNO-PS/1AC, 24DC/30W

Compact power supply with high power density for compact control boxes. Usage: FXA42. Application: Primary-switched power supply for DIN rail mounting. Input: 1-phase. Output: 24VDC/30 W.

SD card FXA42

Usage: FXA42.

HART Ethernet multiplexer head station

Usage: modular gateway Ethernet, FXA42. Maximum 5 expansion modules. Supports Modbus TCP, HARTIP, DTM.

4-channel HART expansion module

Consists of: screw connection, DIN rail mounting. Supply voltage: 19.2V DC - 30V DC. Usage: FXA42.

8-channel HART expansion module

Consists of: screw connection, DIN rail mounting. Supply voltage: 19.2V DC - 30V DC. Usage: FXA42.

Analog to Modbus TCP converter

Datexel DAT8017-I Server. Ethernet 10/100 Base-T, Modbus TCP. 8 analog inputs. DIN rail mounting. Application: Analog to Modbus protocol conversion. Galvanic isolated connection for up to 8 analog sensors with active current output. Integrated web server. Usage: FXA42.
09/14/2020 - 09/18/2020

With the help of actual hands-on tasks you will learn how PROFIBUS fieldbus technology works in detail. At the end of the course you will be able to design and commission a PROFIBUS fieldbus network.

09/22/2020 - 09/23/2020

This introductory course will start by providing maintenance and engineering personnel with a basic understanding of wiring, signals, instrumentation technologies, applications and installations.